New features deployed in our August release are summarized below.
Your First Administrator License is now FREE
(To take advantage of this offer, you need at minimum one paid technician account)
We have decided that since all our customers need at least one account to manage the system, the first admin account is now provided free of charge. This will allow smaller businesses to operate Synchroteam.com and only pay for one or two technician licenses.
Self employed entrepreneurs can also use Synchroteam.com for the cost of one user license per month (or pay yearly at a discounted rate). They can use the admin account for complete back-office access, and the technician account to connect on the road.
For larger businesses, you can create Manager type accounts for staff that need to oversee operations or manage teams. Your main administration account will always remain free.
New Layout for Job View
We have created a completely new screen to display job information. You now have access to all the information on a single page.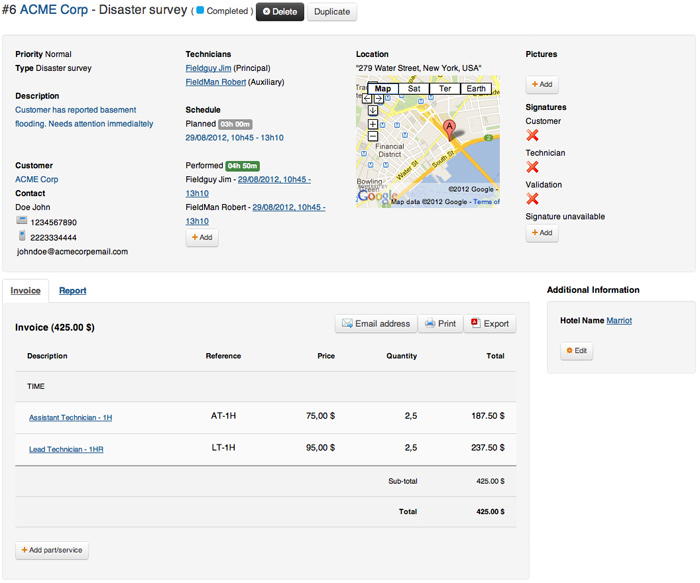 Easily access and manage:
Job Details
Job Duration
Job Location
Invoice
Job Report
Pictures and Signatures
Grouping Technicians into Teams
You asked and we listened! You can now create teams of technicians within the configuration area of the application.
By defining the team members and one or more managers, you can now create work units that will have application views specific to them. For example, when a manager logs in, they will only see the team members they work with.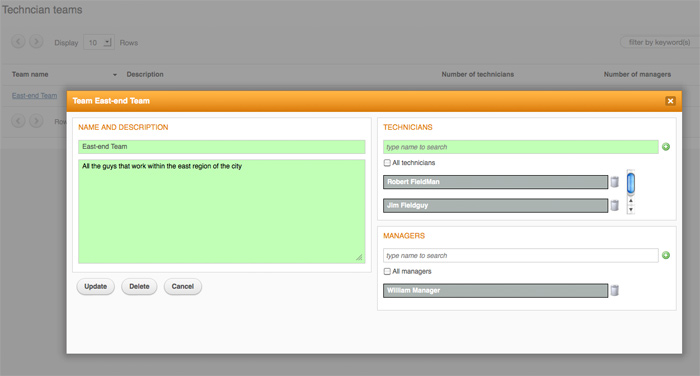 You can also control whether or not technicians in a team and view all their team's jobs. This is done under configuration -> options.
Mobile clients : Technicians can create, decline & reschedule jobs
More power in the palm of your hand! Your mobile workers can now create new jobs on the fly. They can also decline or reschedule jobs directly from their mobile application without having to call your main office.
Mobile clients: Location tracking and navigation.
We have added improved the app by adding live location tracking. You can now see in real time where everyone on your team is located. Moreover, our updated mobile client can tie directly into your phone's native navigation app to make getting directions to the next job painless and easy.
General Fixes and Minor Improvements
Back-Office:
Plan jobs spanning more than one day
Duplicating a job (from the job details screen)
Two new item types in the custom report templates: "Date" and "Time".
Can export late and upcoming jobs to Excel
Mobile Clients:
Alert message added when a non-technician account tries to use the mobile client.
Android : Improved data entry functionality