Synchroteam is a field service management tool that provides companies of all sizes and from all sectors with the ability to manage and organize their maintenance technicians' call-outs. It's a planning tool intended for businesses with workers in the field. Depending on the company, for example, these workers could be in charge of maintaining medical equipment, or repairing telephone lines.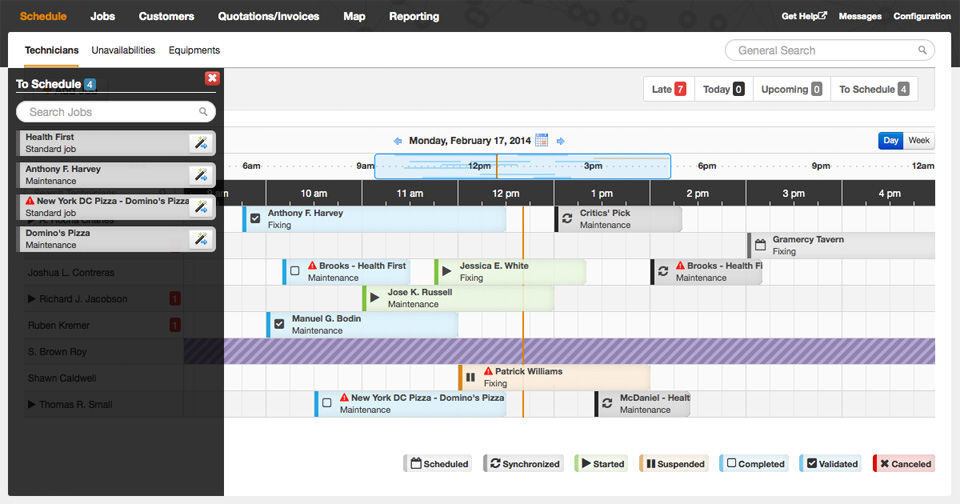 Optimizing call-outs and increasing productivity – that's what Synchroteam is all about. Synchroteam wants to make your company quicker and more profitable by saving time, reducing yearly technician mileage and their response times.
Always find the best tech for the job
Once you get a call from a client about an after-sales call-out, Synchroteam will help you find the best tech for the job: in other words, the technician with the skills needed, in the right area, with the necessary availability. Then the software will take other factors in consideration and automatically find the best person for this particular job: the technician who has the know-how, who is located nearby, and who can get there quickest. Even if the technician is already out on a job, he or she will get a notification on their smartphone, thanks to Synchroteam's mobile app.
A simple, intuitive interface
Plan your field service jobs in real time
The call-out manager can communicate with technicians in real time and manage their jobs via the dashboard. You'll see these technicians classified by their state: late, expected today, imminent, to be arranged. Planning for jobs is easy, since you can see the service calls you need to plan for all laid out in a single overview, as well as the ability to update planning in real time. In real terms, you can manage technicians' jobs just by dragging and dropping – it couldn't be easier.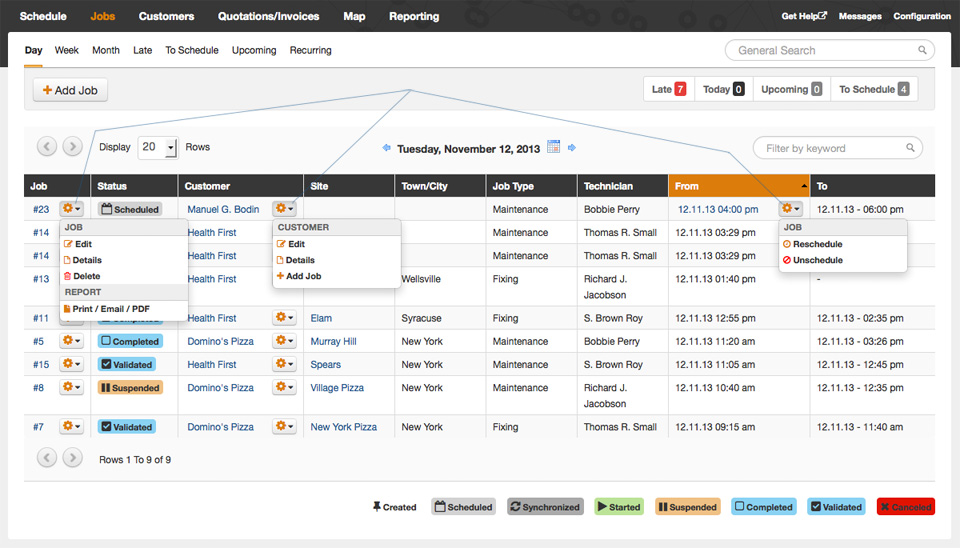 Tools to streamline callouts: ScheduleAssist and geolocation
A single click on a little icon will launch ScheduleAssist, the planning optimisation engine. This tool pulls in information already contained in the software (journey time, type of callout), and automatically suggests the name or names of the most appropriate technicians on the field, so the call-out can be undertaken as quickly as possible.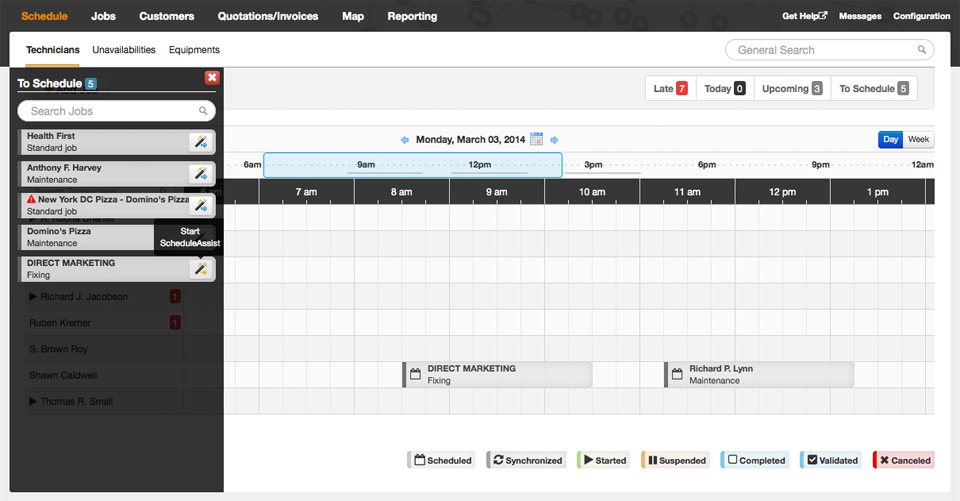 Geolocation allows you to follow and modify each technician's schedule in real time. That means that if an emergency job crops up, you'll be able to alert him or her and get them to the problem quickly.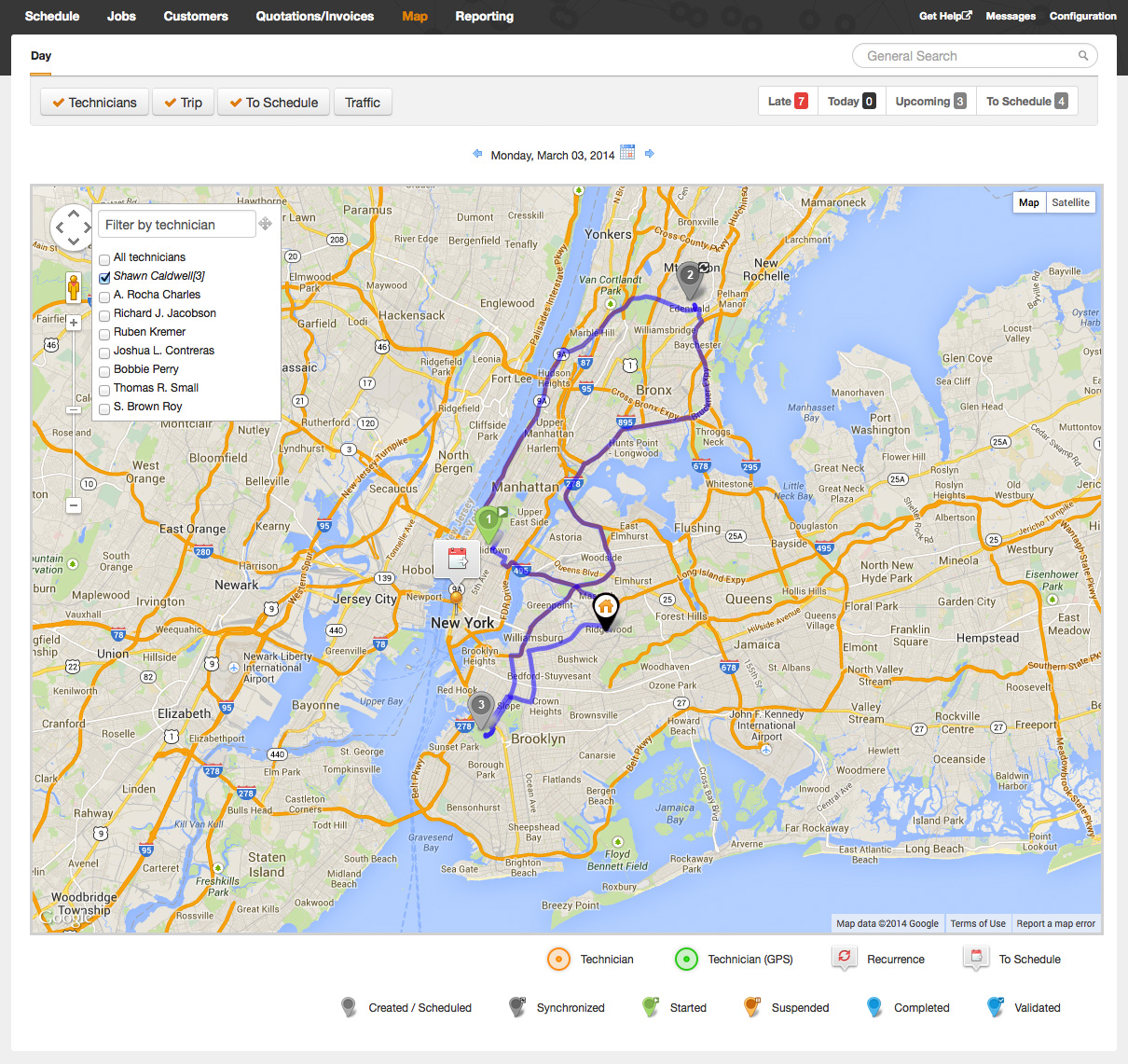 Obligation-free sign up
Synchroteam's field service planning tool works via an online subscription. You fill in some details online, which gives you access to the tool. You then can try it out for free, and when you decide to sign up, you just pay a monthly fee. You can end the service whenever you want: no obligation, no strings attached.
Today, Synchroteam has between 200 and 300 clients around the world, and some 15,000 users. Both the tool, and the mobile app, are available in various languages.
To make getting to grips with a field service management tool even easier, Synchroteam has provided online help, including step-by-step how-tos in the online knowledge base. If you'd like to talk your concerns through with a human, our customer service agents will be happy to help.