Mobility for Business, France's largest event for mobile apps and solutions, is taking place in Paris on November 8 and 9, 2016.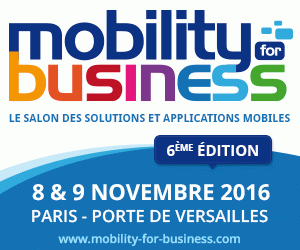 This event is huge, with over 120 exhibitors, 3 keynote speeches, 43 workshops, and over 3,000 visitors. The themes this year are many and varied – app development, mobile marketing, geolocation, traceability and logistics, IOT and business security.
It's bound to be a great event – with one proviso: this is a French-speaking event, so if you don't parlez Français, you might want to check out a different event this year.
Synchroteam at Mobility for Business
As ever, Synchroteam will be there. You can find us at stand D29. We'd love to have a coffee and a chat, so if you'd like to set something up, let us know!
If you'd like to get a head-start, you can fin out more about Mobility for Business on Facebook, Twitter, and their website.
And you can find us here, here and here!
Come see Synchroteam at Mobility for Business, we'd love to meet you!