When it comes to turn your team into a mobile field service company, there are a bunch of options to choose from. Whether it is an Android tablet or smartphone, an iPad or and iPhone, or even a laptop, the amount of devices available today in the market gives you enough freedom to find the best solution – the one that fits your company's needs just right.
However, there's no such thing as "one device for all". Every field service company has its own needs and requirements. What is good for an HVAC company may not be enough for an IT maintenance service. Although adopting mobile field service in your company has a lot of advantages in work automatization and process efficiency, it's definitely something you should think over before taking a final decision.
This post contains a list of a few basic points you should consider when choosing the right device for your workers – the one they'll  use as a mobile field service team.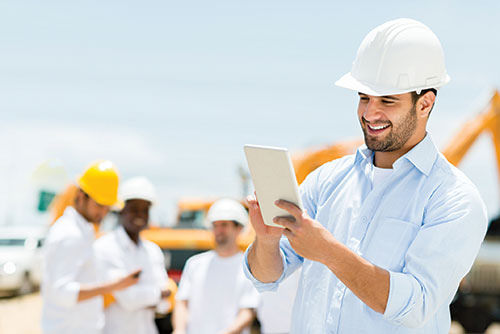 Portability and durability
Mobile field service technicians already have to carry a lot of equipment and tools on a daily basis, and probably don't want a new device adding some extra weight to that. Also, and more importantly, any gadget you choose should be reliable and rugged. A tablet or smartphone ready to be used by someone who spends part of their day climbing ladders, crawling under furniture or working outdoors.
Ideally, the chosen device should be especially designed for all-terrain use, and also water and dust-resistant. If not, try at least to provide your technicians with protective cases for their devices.
Ease of use
Everyone has their own preferences – in technology too. Some of your workers will want to use an iPhone, other will prefer an Android device, and some others will ask for a tablet instead of a smarphone. One war or another, someone will have to get used to a new device and a new operating system.
This is why it's so important to choose the right gadget for your brand-new mobile field service team. It should be the one that best fits with your technicians' circumstances. Some aging team members may struggle a bit to adapt to changes, especially the ones coming from digitalization. Try to make the transition smoother for them by reducing the learning curve as much as possible, and giving the team all the necessary training in order to make the most out of their new devices.
The price tag
Though we've left it for the final paragraph in this post, the device's cost for your mobile field service team is clearly one of the key points when trying to choose one.
Generally speaking, cheaper devices have less functions and may not be up to your requirements. That said, if your company plans to supply smartphones or tablets to all your technicians, this expense will surely have an impact in your company's financial results. The main point here is to find the perfect balance between the need to mobilize your team and finding the right price tag for your company's budget.
Once you have chosen the right device, the only thing left is setting it up with a proper field service software solution to make your mobile field service team quicker and more efficient.