When you decided to open your field service business, customer management wasn't probably in your top priorities. Therefore, you didn't take the time to search for, test and start using a field team management software tool. You just wanted to work, make your business grow, and yes, earn some money on the way.
However, you also probably found out that working in the field service business isn't just knowing how to perform the most mechanical tasks of the trade. Customers do matter in your line of work (a lot!), and you must work hard in order to provide the best customer service you can. In fact, after just one negative experience with a company, up to 51% of customers say they would never do business with the same company again.
But an excellent level customer service is not easy to reach. It means answering the phone and/or emails, remembering all appointed jobs, following up on pending tasks, sending invoices on time, and a hundred other little things that don't have much to do with, say, fixing an HVAC equipment. And of course, all of them with a smile!
Luckily for you, professional field team management software like Synchroteam can also help you with customer tasks: from scheduling jobs to billing, our tool guides you through every step of the way.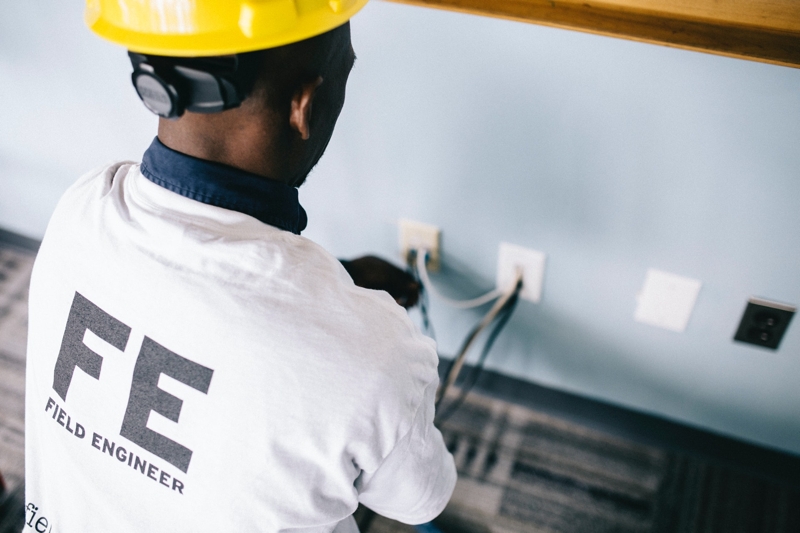 Why not using pen and paper?
When you're a small company and have just a bunch of customers, a simple pen and paper record of customers may be enough. But if you really want your company to thrive, you need a powerful field team management software to tackle all those administrative tasks related to the handling of customers.
Trying to keep track of everything in your head (appointments, billing, inventory and so on) makes you prone to making mistakes. And even if you're capable of remembering your whole team schedule, you certainly won't be able to keep track of the service history for each and everyone of your customers.
Consider hiring an office dispatcher
When you realize pen and paper is not the way to provide the best customer service, the logical next step could be hiring a dedicated office dispatcher. That is, someone in charge of all those administrative tasks related to customers: answering the phone, scheduling jobs, invoicing and so on.
But then again, this method may also have flows. It means transfering all those tracking tasks we mentioned before to another person – someone who, by the way, might leave the company in search of a better job opportunity.
The best solution: field team management software
Nowadays a management system based on paper records makes no sense. Using a field team management software is the best way not only to make your company grow, but also to provide the best service you can to your customers.
Today's customers expect efficiency and speed when hiring a field service company. For instance, when a customer calling your business, you need to be able to check your schedule right away – and also the record of previous services, if there are any. No one will wait on the line until your find those digging through hundreds of papers in a file cabinet.
A powerful field team management software such as Synchroteam includes all the tools you need to manage customers efficiently. With these tools, you can:
schedule jobs

, finding the right slot that fits both them and your technicians.

keep track of their service history, and plan for future revisions when the time comes.

check if all the necessary equipment for the service can be found in

your current inventory

, and order more material if necessary.

generate the invoices

from the same software, even right on the spot, before leaving the customer's house, thanks to the

Synchroteam mobile app

.
In the end, it's all about simplifying the job process. It makes it easier for you and delivers a better experience for your customers. And what's more, it gives you more time to focus on what's really important: doing more work, being more productive and making your company grow!
If you want to see how Synchroteam can help you thrive, don't wait any longer!
Download the free demo
today and see for yourself.
Image from Pexels