Increasing efficiency and productivity is an important challenge for many field service managers. Something in which field service management software can definitively lend a helping hand.
However, many field service industries are still struggling with inefficient schedules and routes. Technicians are not assigned on a current location basis, and may be sent to a job too far away – thus wasting time and fuel. Or maybe once the technician is already with the customer, but suddenly realize they don't have the necessary equipment or paperwork. And finding a free slot to reschedule these jobs can be a nightmare for dispatchers.
Luckily, this is where field service management software comes in handy. Want to know how it can help you be more efficient, more productive and in turn, generate more revenue? Keep reading!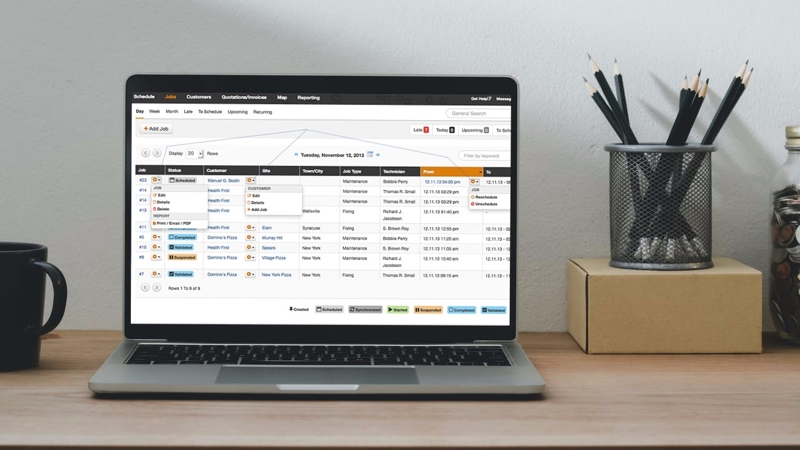 So, what is field service management software?
Field service management software is an application that helps you automate all the processes related to the core of your field service business. That is, creating job orders, assigning them to the most appropriate technicians, dispatching said technicians to the location and tracking working times and supply inventory, among others.
It also enables you to easily adapt to any unforeseen change. For instance, if a technician is delayed due to traffic, the software lets you warn the customer in real time. Or even better, reroute another technician to avoid rescheduling and increase customer satisfaction.
Features of field service management software
The most important feature in any software of this kind is the possibility to assign specific jobs to the most appropriate technicians, both in terms of abilities and location. That is, the application will always try to find the person who is better prepared for the job, but who can also arrive sooner to the customer.
Another important feature is the fact that, once on site, the technician can check the customer's history of previous jobs, a list of required equipment and any other important information for the job.
Most field service management software apps let you send automated text messages to the customer while en route, warning them of any possible delays. They also make it way easier to keep track of documentation and paperwork: estimates, job orders, invoices… they're all digital and can be accessed anytime, anywhere.
Finally, another key feature is schedule organization. With the help of this software, you can create new jobs and routes more efficiently, avoiding double bookings and availability issues. Additionally, you can also make any changes to that schedule in a breeze. 
Benefits for your business
With all these features, adopting this software in your field service company clearly has a positive impact. Here are some of those additional advantages:
Schedule optimization. Field service management software saves a ton of time when scheduling technicians to jobs and adjusting their routes. Optimized schedules mean you save fuel and time, and can easily adapt to any changes. This in turn enables you to complete more jobs and increase your income!
Full transparency. Regardless of their position in the field service company, anyone with access to the software can check the information included in it. Who's assigned to that task? How long until a given technician arrives? Who's available for an emergency job? It's all right there, in the software app.
Tracking inventory. No technician wants to turn up on site, only to find that they lack the appropriate equipment for the job and must reschedule for later. A detailed management of inventory lets you avoid these situations and keep track of all your supplies.
Reporting and invoicing. Going back to the office to generate the invoice? That's so yesterday. Any modern software of this kind  will let you create the invoice on the spot, right after finishing the job. It allows the client to receive the bill faster, helps reduce billing errors and makes it easier to track accounting data.
Convinced already? Don't look any further! Grab Synchroteam's free demo and experiment all the benefits of a high quality field service management software app for yourself!
Image generated on Smartmockups