With a field service tech software, everything is a bit easier. A field service management software like Synchroteam is specifically designed to help you handle all sorts of tasks in your day-to-day business.
From job order scheduling to customer management, from inventory tracking to invoicing… A field service tech software stays right in the middle of your field service business and serves as a control hub. It helps with communication, information management and customer support.
But don't take our word for granted. I can think of a better way to show you how this kind of software app plays a key role in your daily business operations. Let's revise what would be a standard day at the office, and how a field service tech software helps with each step of the way.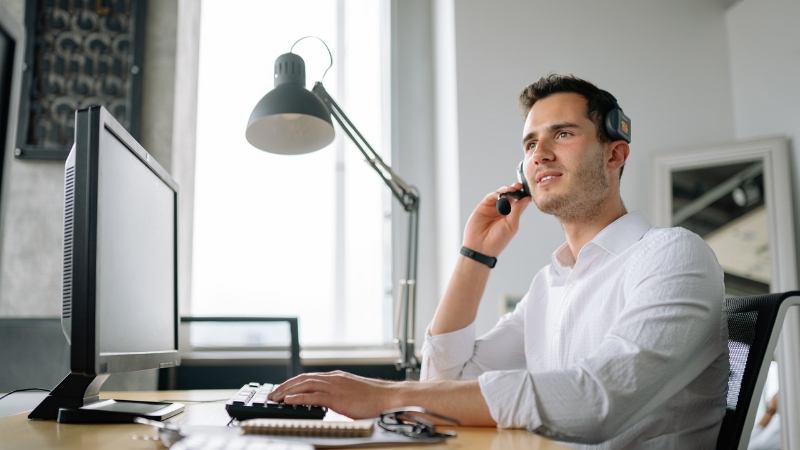 Managing job orders
The first step in any job you take in your field service business is receiving the work order. With a field service tech software you can easily enter the order in the system, where it is stored. Plus, you can also create a backup copy for extra precaution.
Once in the system, the order links to any other information that's related to it. For instance, if it comes from a recurring customer, it'll be added to their history. And it will also share any other important documents: photos, schematics, permits and so on.
In this way, any person in your company can check the relevant information regarding a certain work order in a very easy way.
Schedule and dispatch
Once you have a bunch of orders in your hands, it's time to schedule them and create the week's plan. Doing this with a field service tech software is especially easy. What's more, Synchroteam's users can benefit from ScheduleAssist. This automatic scheduling tool helps you distribute jobs among technicians taking several factors into account.
Depending on the travel distance or the necessary skills to complete the job, the scheduling tool will suggest the best time slot for a new job. In this way, you can make sure the jobs are assigned to the most appropriate technicians.
Helping the field technician
Now that each technician has their own list of jobs, it's time to hit the road. A top-notch field service tech software will suggest the best routes to get to each destination, saving time and fuel. Also, each technician has their own  software app for mobile.
The mobile version of a field service management app works as a pocket office for a technician while they're in the field. No more back-and-forth trips between the office and the customer due to forgotten papers. They have access to all the information they need for the job. And can access the customer's history, and check back with the office regarding any issue. It's a real time-saver!
Invoicing the customer
Something else a field service tech software can help with (well, its mobile version!) is paperwork and even invoices. Once the job is completed, the technician can generate the necessary documents and collect signatures right on the spot. Plus they can also send copies of the invoice to the customer right away, via email, from their mobile device.
This is where the so-called paperless office really shows off. A clear demonstration that technology can truly help you do a better job and provide a better service to customers. Not only does it save you time, but it also enables you to collect payment even faster.
Reports and data processing
Invoicing may be the last step in any standard field service job. But your work doesn't end here, nor does the help of a field service tech software. With all the information stored in your system, you can also create all sorts of reports. In this way, you'll be able to use data to analyze your current performance, find improvement areas and increase efficiency.
Want to count with the help of a professional field service tech software in your day-to-day tasks? Download Synchroteam's free demo now!
Image by Yan Krukov on Pexels