Field service companies are, in general terms, those guys you see sometimes in the neighbor's yard, or on top of the roof, fixing something. They can take care of different machines and installations, such as air conditioning or telecommunications. And they usually work with the help of a home services software application.
These guys belong to the so called field service industry, a business area that includes many diverse companies. They provide a collection of different services at customer locations, such as pest control, plumbing, electrical contractors, and even landscape and pool services.
Working in field service has its perks. Each day is different from one another, and you get to help people in need – which is always satisfying. Plus, if you count on a software app to help you with daily tasks, it makes the job even better.
Let's learn a bit more about the field service industry in general, and how home services software can help you thrive in it.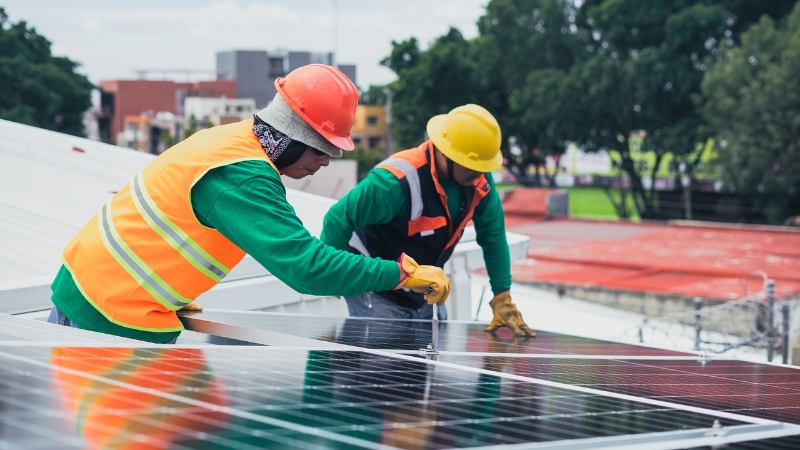 Field service and home services software
The field service industry is an everchanging business. It includes many different types of companies, covering a bunch of them from security to medical areas. And it serves a varied group of customers too, from the plumber who fixes your sink at home, to the technician who revises the air conditioning installation in a giant shopping mall. This is why many field service companies rely on home services software apps to make their work easier.
This type of software is often called field service management software, and that's exactly what Synchroteam is. A software-based system that helps you streamline work processes and therefore gain efficiency. With the right software tool you can easily organize tasks, schedule jobs, manage customer information and create invoices, all from one place.
Using a home services software app also enables technicians on the field to be more independent, as they can access all the information they need via a mobile app. It's time to say goodbye to those notepads or paper scraps that tend to get lost too easily!
Benefits of using software in your company
Generally speaking, software is here to make our lives easier. This is something you can probably already tell with the apps installed on your mobile phone. And the same applies to the field service industry and home services software.
Software applications such as Synchroteam can provide many benefits. For starters, they're a great way to provide a better service to your customers, thanks to their accurate data reports and optimization of workflows. In addition to that, home services software also makes it easier to manage your team of field service technicians.
This kind of software apps help you avoid costly inefficiencies and offer the best customer service possible. How? Easy: home services software solutions are a great tool to make sure all jobs are done properly, including rescheduling of tasks when necessary and managing inventory.
How to choose the best home services software
There are many home services software developers with different products on the market. So, how can you make sure you're choosing the right one for your field service company?
Generally speaking, you need to focus on your requirements as a business, and make sure the field service management tool of your choice meets all of them. What type of business do you run? What services do your offer? Who are your customers?
Once you know the answers to these and other questions, it'll be easier to choose a home services software solution. In any case, don't sign up for any kind of software without having tried it before!
In Synchroteam we offer a free trial demo, so that you can take the software for a test ride before acquiring the licence. Using a tool like Synchroteam is a great way to improve your services, staff management and customer satisfaction rates, so… what are you waiting for?
Image by Los Muertos Crew on Pexels