For companies of all sizes and types, operational effectiveness is crucial. And of course, the field service business sector is no exception to this. Time is money when completing installations and maintenance procedures in all sorts of equipment. This is why using a maintenance job tracking software app to optimize your business operations is a great idea. This approach will surely help boost output and profitability in your field service company, while enhancing customer satisfaction at the same time.
We can't emphasize enough the benefits of using a cloud-based maintenance job tracking software such as Synchroteam. It provides your team with the perfect digital work management platform. A centralized system that is stable, adaptable, and equipped with the tools required to perform your job the best you can. It truly works as the hub of everyday operations for your field service business.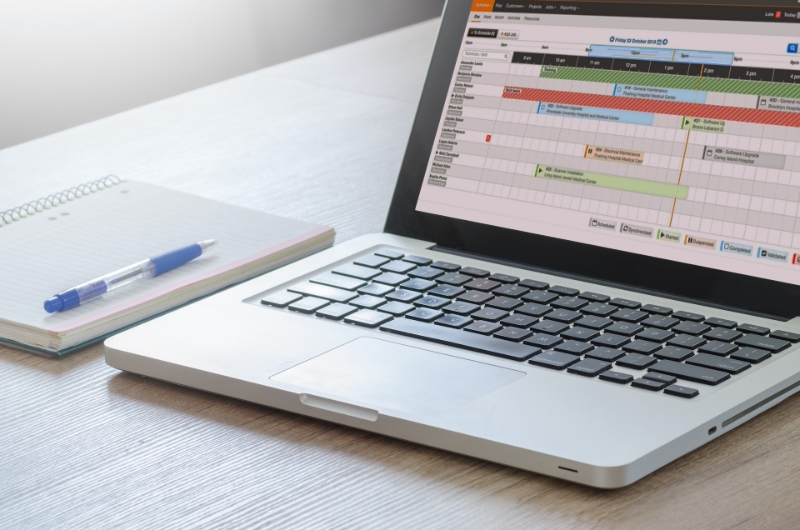 In other words, the best maintenance job tracking software application will assist in streamlining operational workflows from top to bottom, from beginning to end. It'll help you oversee the complete project from upper-level management to your field technicians, all throughout the project lifecycle.
Benefits of using maintenance job tracking software
Using Synchroteam maintenance job tracking software makes scheduling and dispatching simpler than ever before. It's like having a hands-free scheduling tool! With the help of ScheduleAssist, it automatically optimizes schedules based on parameters you specify. The system analyzes your existing schedule and suggests the best time slot for a new job.
Synchroteam can also help you improve your schedules and optimize workflows. In this way, you can cut down on time wasted in the office and on the job by using our powerful and adaptable scheduling software.
With more reporting and analysis features, Synchroteam's maintenance job tracking software gives you a better visibility over the whole field service business. It features dozens of standard reports with customizable tracking capabilities. It also lets users create their own custom reports as they see fit. You can plan and project for future growth of your field service company in a more accurate way thanks to this fully integrated data flow. Besides, it also lowers the possibility of errors and helps produce more accurate reporting.
Advantages for technicians
Making the most of your busy schedules is key for process optimization. This is what maintenance job tracking software apps make possible, thanks to its central focus on time management. With these features, the software quickly becomes an essential part in your technicians' toolbox.
For instance, maintenance inspectors can automate time tracking with the help of Synchroteam, which also enhances visibility at the office. Thanks to the field service management software, workers can quickly and easily record their working hours. They can track non-job-specific time as well, like training sessions or other off-site days.
Synchroteam field service software has offline capabilities and stores all the project data your specialists and technicians require to be successful. It contains details on previous and ongoing projects, images, schematics, and more. All the data your specialists would require to complete the task successfully.
Additionally, it offers fully integrated form features that can lead the technician through the inspection process step-by-step. It also gives you the power to complete the whole project based on the information already entered into the form. The form module in Synchroteam is fully adaptable and incredibly user-friendly, and they can be accessible through our mobile app as well.
Synchroteam is one of the best maintenance job tracking software apps you can find in the market. It provides its users with the resources they need to organize and develop their field service businesses in preparation for future expansion. If you're looking for a way to streamline operations, offer enhanced customer service and be more effective, give Synchroteam a try for free!
Image by Lukas on Pexels