Solar installations are increasing these days among all sorts of customers, both for companies and private homes. The rise of energy prices and the need to be more environmentally friendly is moving people towards self-supply solar power installations. If your field service business covers this area, it's probably wise to give dispatch software a chance to help you manage work the proper way.
In fact, the life cycle of a solar panel installation project offers endless potential for delays, misunderstandings, and other difficulties. This business area needs regular contact, information sharing and permit processing, among others. That's why you need a dispatch software solution that streamlines and expedites all tasks related to the project, if you want to keep on top of these things.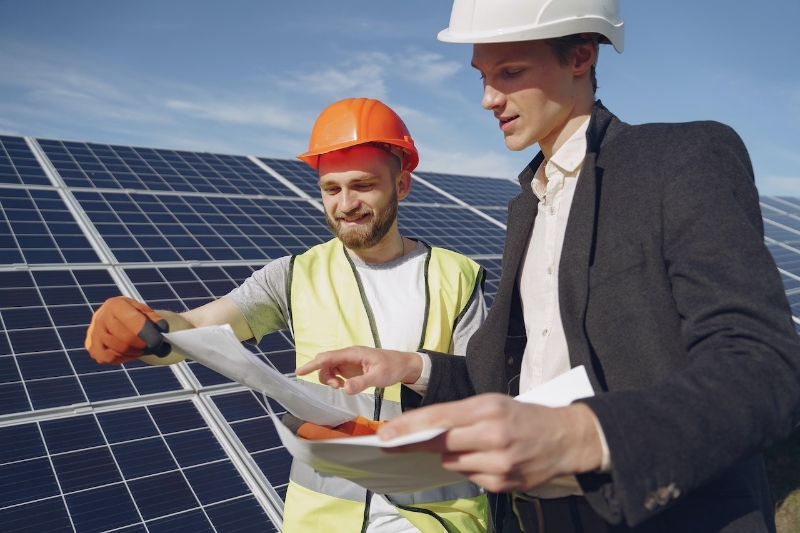 Synchroteam field service management software was created in response to this. Every stage of any installation (in this case, of solar panels) is easier with the help of our software. Let us show you why!
Information management
For all processes, Synchroteam dispatch software offers seamless information management. A work order can be automatically linked to previous project data once you receive it, and then added to the platform. From there, all users are able to access all project data in one place. This is especially useful for complex projects such as solar panel installations.
Software made for a single function may be enough. But if you're looking for maximum effectiveness, your several different software platforms must be able to connect with one another. Synchroteam makes this possible, by connecting every part of your field service management process. In this sense, the dispatch software becomes a hub for managing communications and information.
When you upload a new work order, it can be immediately connected to previous project information. Then, it's ready to be allocated to a technician via the scheduling tool. This streamlined process helps save time, and in turn, decrease costs for your company.
Schedule management
No matter how hard you try, it's impossible to stay on schedule at all times. Luckily enough, Synchroteam makes it simpler than ever to change your field technician's schedule at the last minute.
With our dispatch software your staff can re-optimize schedules in light of any altered circumstances. You even have different ways to do it: choose either the list view or the map view as you like, and track the technicians' real-time positions at any time.
Empowering technicians
Want better results and happier employees? There's an easy trick. Give your technicians more powerful tools on the job so they can accomplish more. Solar panel installation projects are challenging, and circumstances alter. Your specialists want a versatile tool that is also loaded with the functionality they require to handle these difficulties.
With the Synchroteam dispatch software mobile app your technicians will have the independence they need to streamline their job. The app lets them modify prices and rates, examine inventory, and alter project details – all right from the field.
Faster invoicing
The procedure of issuing invoices can be hard. What's worse, it can end up wasting too much of the technician's precious time. The Synchroteam dispatch software tool provides a solution to this problem that digitizes the billing process.
Your technicians will be able to obtain the client's signature and even create invoices with only a few taps on the screen of their Synchroteam mobile app. Later on, the accounting team back at the office can retrieve this digital invoice – or it can simply be emailed to them from the field. Synchroteam helps streamline your billing procedure and make it simpler for you!
More transparency
Thanks to the reporting module in Synchroteam dispatch software, management will never be in the dark again. The application makes real-time progress tracking and metric analysis available to management at any time. And with this tool, you'll have the opportunity to keep an eye on what matters to you, by selecting from basic reports or easily creating your own.
Your field service business and the solar panel installations you take care of need Synchroteam's solutions. So check out this link to download the free demo and see it for yourself!
Image by Gustavo Fring