A field service dispatch software application can enhance internal processes and communications in your field service company. But it may still be missing one crucial component: client data. A field service CRM system (that is, a customer relationship management tool) can be useful in this situation, and can bring those customer-related features back.
If you combine a CRM system and your field service dispatch software app, you'll get a 360-degree view of your employees and your customers. It'll be even better, of course, if the field service management solution of your choice already includes a customer module, like Synchroteam does.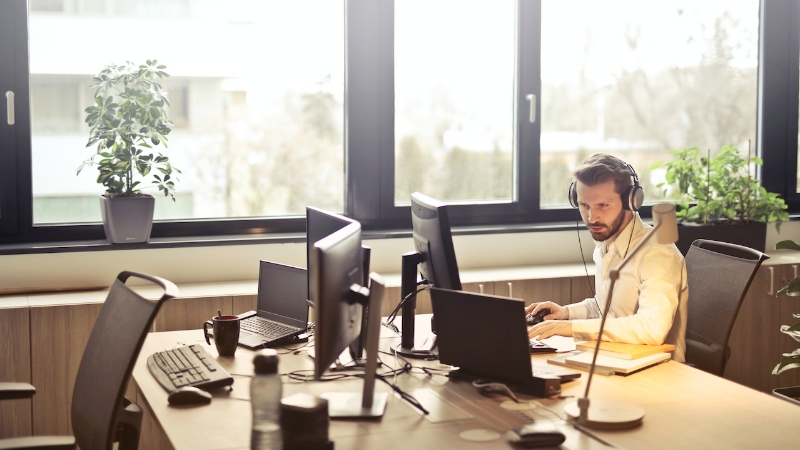 With a CRM tool in your field service software, all information related to customers is readily available to technicians, managers, and everyone else in your business with just a few clicks. Here are just a handful of the main advantages of integrating CRM in your field service dispatch software.
A more personal approach to field service
The ever-growing importance of a customer-centric mindset has made individualized service more crucial than ever. This is a key point in the field service industry.
That's why enhanced personalisation is the first advantage of having a CRM module in your field service dispatch software app. With just a few clicks, a field technician can access previous jobs, log comments, follow updates, and quickly locate bills using the CRM database. The system creates and maintains client profiles, and gathers all the necessary information about them.
With this information, technicians can quickly acquire trustworthy details on earlier problems that might be applicable to their current task. But that's not all. Customers will also value an independent field technician, some who can solve the whole issue on their own.
Individual customer profiles in the CRM module of your field service dispatch software give technicians easy access to customers' preferred contact methods. The technician will be aware not to call if the customer wishes to be contacted only through email, for instance.
With several points of contact, a CRM can track both private and business clients. This enhances the customer experience by preventing field technicians from contacting the wrong employees.
Improved efficiency in daily operations
While one of the main advantages of a CRM for field service dispatch software is improved customer experience, it can also enhance internal processes.
For instance, you can record comments alongside chronological notes and updates in customer profiles.
This makes it possible for field workers to organize clients' interactions with your business into time-based categories. Therefore, you'll be able to better comprehend crucial system issues.
Also, all customer-related documents, including PDF invoices and images, are seamlessly saved in the customer profile for easy access. It may seem unimportant, but this point simplifies the job of a field technician to a great extent. What's more, headquarters can also benefit from it. Account managers, for instance, can more effectively address concerns if there is a customer disagreement since they have ready access to evidence of the service.
More accurate invoices
Finally, a field service dispatch software system combined with a CRM module makes billing simple and precise.
An integrated system like that gives the accounting department and field technicians a complete view of all jobs, estimates, and bills.
Of course, this makes it easier to handle accounts and prevents improper billing. Also, the majority of the data is auto-populated, speeding up and simplifying the completion of invoices while minimizing errors.
A CRM system combined into a field service dispatch software tool may be the ideal option if you're seeking for a simple way to automate processes and enhance client connections. While it's a key element for bigger businesses, it's also a fantastic approach for smaller businesses to improve operational efficiency and boost profits.
And guess what! Synchroteam features the whole pack: a top-notch field service management system with a fully functional CRM module. Download the free demo right away!
Image by Andrea Piacquadio